Stuffed Avocados With Seafood
K9 Owned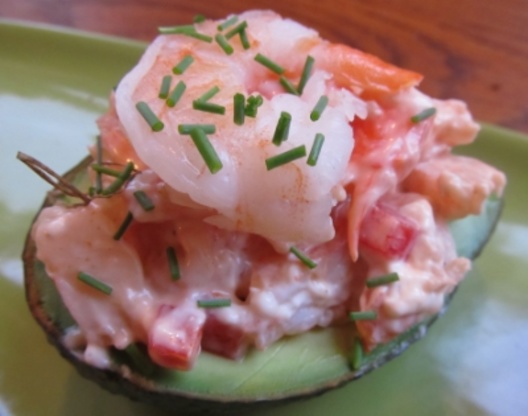 This is called Palta rellena con mixtura de mariscos. This recipe is posted for ZWT4. It is from panix.com. We reduced the amount of mayo and can't imagine it with the full amount.

Made for The Quest 2014 and what a lucky find it was! I had a dinner party last night for 9 and just happened to have an abundance of avocado, baby shrimp and smoked salmon on-hand. So I used a combo of the baby shrimp and smoked salmon, added capers for their lovely burst of flavor, was generous with my lemon pepper & even had fresh chives from the garden of a friend. Sounded like fate to me when I found your recipe. We loved our lunch today, LL. Thx for sharing your recipe with us. :-)
In a bowl combine seafood, mayonnaise, catsup, lemon juice, worcestershire, peas, salt, and pepper.
Peel avocados, divide lengthwise and sprinkle with a dash of lemon juice.
Fill stuffing in the avocado cavity.
Garnish with chopped chives and red pepper.