Strozzapreti or "priest Chokers" With Sage Sauce
MsPia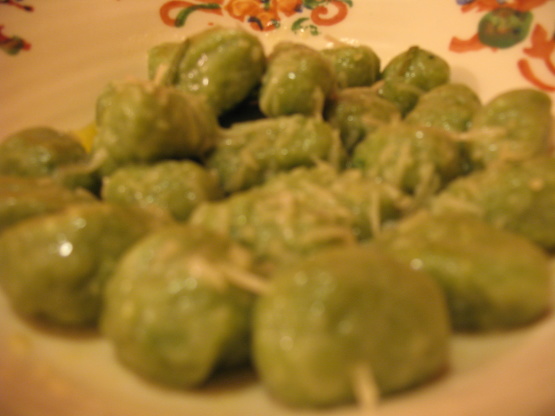 The unusual name for these spinach and ricotta dumplings apparently comes from a greedy priest eating to many to quickly. From Lidia's Italy. Prep time does not include the 8 hours of draining the ricotta.
Place the ricotta in a cheesecloth-lined sieve and place the sieve over a bowl. Cover the ricotta with plastic wrap and place the ricotta in the refrigerator for at least 8 hours or up to 1 day.
Bring a large pot of salted water to a boil. In a medium mixing bowl, beat the eggs until well blended. Add the spinach and beat until blended. Stir in the drained ricotta, 1 cup Parmigiano Reggiano and 5 tablespoons of breadcrumbs. Season with salt, pepper and nutmeg. Stir until well blended.
Coat a baking pan with a generous amount of the flour. Line a second baking pan with a lightly floured kitchen towel. With floured hands, roll two tablespoons of the ricotta mixture into a 1 1/2-inch ball. Roll it in the flour until generously coated. Before continuing, test the flavor and texture of the mixture by dropping the strozzapreti into the boiling water. It should hold its shape and rise to the surface within a minute. Continue cooking for 1 minute after the strozzoprete rises to the surface, then lift it with a slotted spoon from the water. If the strozzaprette didn't hold its shape, add a little more breadcrumbs.
Once you're happy with the taste and texture of the strozzapreti, form the remaining mixture into balls, roll them in flour and set them on the lightly floured towel.
In a skillet large enough to hold the cooked strozzapreti in a single layer, heat the broth, butter and sage leaves over medium low heat to simmering; simmer 3 minutes. Remove the sauce from the heat.
Add half the strozzapreti to the pot of boiling water and stir gently until they return to the surface. Cook until firm, about 1 minute after they rise to the top. Remove them with a skimmer and transfer them to the pot with the sage sauce, draining well. Repeat with the remaining strozzapreti. Place the pan over medium-low heat and gently shake the pan to warm the strozzapreti and coat them with sauce. Remove the pan from the heat, add the grated cheese and swirl the strozzapreti in the sauce until they are coated.
Serve the strozzapreti in warmed bowls, spooning extra sauce over each. Pass additional cheese if you like.