SharonChen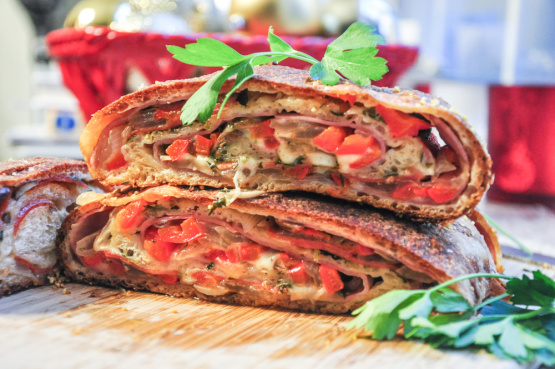 I got this recipe off of Cooking Live. You can mix and match the toppings as you wish. It is a fast and easy dinner. I make the pizza dough in my bread machine, but you can buy it pre-made.

This is a fantastic recipe that makes perfect stromobli. Ours needed only 30 minutes in the oven. We made 3 of these for company the other night, using balls of pizza dough bought from the supermarket.
The first one was a plain cheese - mozzarella and parmesan (and a sprinkle of italian seasoning and garlic powder).
The second one was ham, pepperoni, sauteed onions and home made roasted red pepper with mozzarella, provolone and parmesan cheeses (also with italian seasoning and garlic powder).
The third had spinach sauteed with lemon juice (very well squeezed out), roasted eggplant chopped up, sauteed onions, and feta, provolone, mozzarella and parmesan cheeses (same seasonings).
We used the marinara at the table for dipping so that the inside of the stromboli didn't get soggy.
This is an excellent base recipe to add your own topping preference to! They were loved by the little kids and adults alike!
Preheat oven with pizza stone in it to 450 degrees.
If you don't have a stone a baking sheet will do.
Sprinkle a little flour on your work surface.
Useing a rolling pin roll dough into a 10 x 14 inch rectangle.
Cover the rectangle with layers of your desired toppings, leaving a 1 inch border around the sides and at the top.
Mix the 3 cheeses and the herbs together in a small bowl and sprinkle over the top.
Starting at the end closest to you, roll the stromboli into a log.
Seal the dough by pinching firmly with fingertips on sides and ends.
Sprinkle a little cornmeal on a pizza paddle and put stromboli on the paddle.
Make sure the seam is on the bottom.
Use a pastry brush or a mister to apply olive oil.
Carefully place stromboli on preheated stone, turn down oven to 400 degrees and bake for 35 minutes.
Carefully remove from oven and let rest for 5 minutes.
Slice with a serrated knife.