Stroganoff Stuffed Potatoes (Meatless)
awalde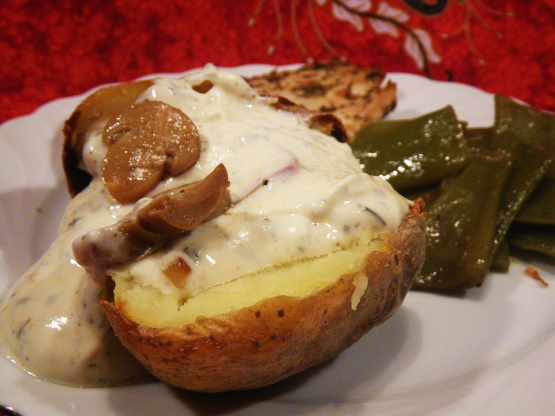 Since we started watching our diets have quite often missed being able to have stroganoff. This recipe comes from the Healing Foods Cookbook and is a much healthier version making it a good substation for the real thing.

We really enjoyed these potatoes. I served them as our main dish and they were very filling. I halved the recipe and used greek yogurt plus extra mushrooms (my preference). Just perfect for our evening meal. Thanks for such a delicious post! Made for Everyday is a Holiday tag, December, 2011.
Bake the potatoes at 375 F for 1 hour or until easily pierced with a fork.
While the potatoes are baking, line a strainer with cheesecloth and set it over a bowl. Add the yogurt and set it aside to drain for about 15 minutes.
Transfer the drained yogurt to a small bowl and whisk in the mustard. Set aside.
In a large nonstick frying pan over medium-high heat, saute the onions and garlic in the oil until the onions wilt, about 5 minutes.
Add the mushrooms, dill, thyme, and nutmeg. Saute until mushrooms are brown and fragrant, between 5 and 10 minutes.
Remove from heat.
Stir in the yogurt mixture into mushroom mixture.
Serve over potatoes.