Stroganoff Sauce for Meatballs
Bergy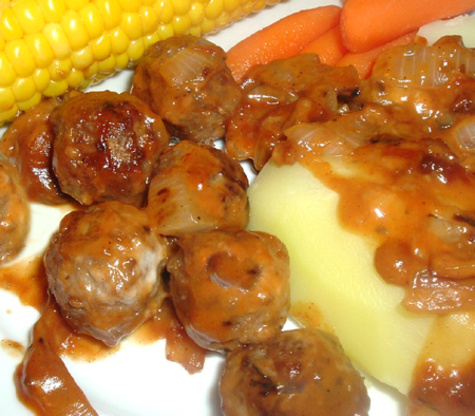 Adapted from Company's Coming Make Ahead Meals by J. Pare.

I needed a sauce for frozen meatballs, and I'm glad I tried this one! I added a splash of worcestershire sauce. I got a little lazy, so instead of cooking noodles in a separate pot, I dropped them into the sauce pot...sort of a 'meatball helper' shortcut! So, instead of adding more flour, the pasta thickened the sauce to the right consistency for our taste. (oh - I thawed the meatballs first!)
Melt butter in frying pan.
Add mushroom and onions and sauté until soft.
Stir in flour and water.
Mix in remaining ingredients and simmer for about 5 minutes, until slightly thickened, stirring often.
Add meatballs and simmer until heated through.
To freeze: Double or triple sauce and divide into 3 cup containers or freezer bags. Label and freeze for up to 3 months; Defrost in fridge overnight or in microwave; add cooked meatballs and cook or bake until heated through.