Strip Loin Steak With Blue Cheese and Sage
Bergy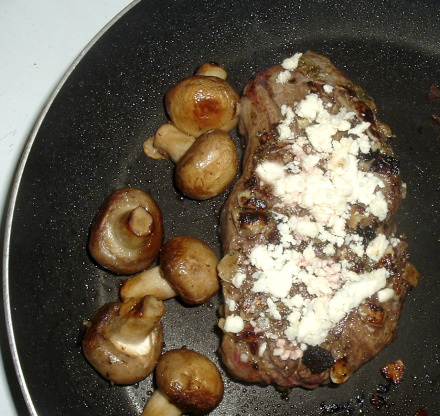 If you are searching for an awesome recipe for grilled strip loin this is one to try! These steaks will melt in your mouth.

Top Review by Bergy
Used a New York steak unfortuneately I could not find any fresh sage so I resorted to home dried - it was still wonderful. I will make this recipe again with fresh sage.Steak was pan fried medium rare. I had aged balsmic vinegar and it added to the flavor of the garlic & sage - marinated it for 4 hours. Excellent recipe Kittencal sorry about the sage
In a bowl, whisk together the minced garlic, 1 tbsp chopped sage, 1/4 cup olive oil, vinegar and salt and pepper (I use about 1/4 teaspoon salt).
Add steaks, turn well to coat.
Cover, and refrigerate for 4 hours or up to 8 hours.
Place steaks on grill, season with more pepper if desired and cook to desired doneness.
Transfer steaks to a platter.
Sprinkle with crumbled blue cheese and remaining sage.