Karen..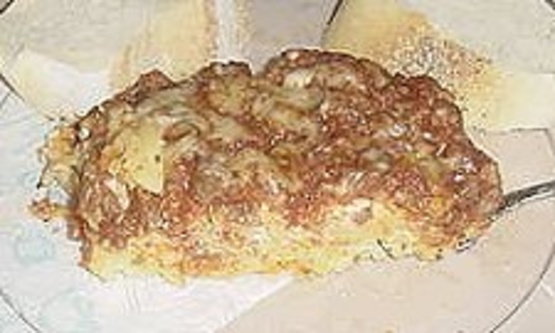 Satisfies adults and kids alike!

This was great, according to my big family :) My daughter wanted me to rate it an 82! I used about 3/4 of a pound of spaghetti plus a little extra sauce and meat. Since we do not like cottage cheese, I used ricotta. I also added salt, pepper and Italian seasoning to spaghetti mixture and salt and pepper to meat sauce. When the family heard the name of this recipe, they were leary, but they went nuts over it! Served with a crusty loaf of Italian bread and butter. Thanks for the unique recipe.
Cook the first three ingredients in a large skillet at medium heat till meat is brown, stirring to separate.
Drain fat.
Stir in spaghetti sauce.
Mix well.
Combine spaghetti, Parmesan, eggs, and butter in a large bowl.
Mix well.
Place in bottom of a 13 x 9 inch pan.
Spread cottage cheese over top.
Pour sauce mixture over cottage cheese.
Sprinkle with mozzarella cheese.
Bake at 350 degrees F for about 20 minutes.