Streuselkuchen Topped W. Fresh Fig or Peach, Plum (Bread Machine
Rita~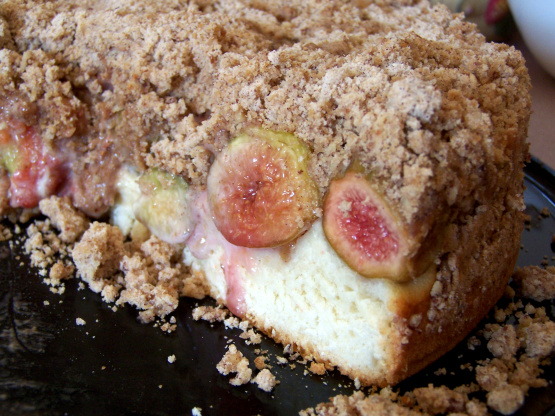 This recipes has lots of juicy fruit bedded on a beautiful yeast made bread, then topped with lots of nutty spiced crumbs that have a hint of candied ginger. Do use fresh peaches, plums whatever fruit you desire. I have an Abundance of fresh figs so that was my choice.
I absolutely love this kuchen and can not wait until breakfast tomorrow so I can eat it again :-) Just be sure that your bread machine paddle doesn't sneak into your springform pan. Mine did and half of the kuchen puffed up twice as tall as it was supposed to!!! Oops!!! But it is still delicious... I definitely want to make it again with other fruits, although it's just lovely with figs. I made with LIGHT BUTTER (in stick form) and it turned out fabulously... YUM!!!!
Place the dough ingredients into bread machine according to your bread machine specifications. Set to dough cycle.
Butter a 10 inch springform pan.
Preheat oven to 375 degrees.
Lightly punch down dough on floured board. Roll out to fit the bottom of pan.
In a food processor place the topping ingredients except butter and pulse till nuts are chopped add the butter and pulse till it resembles coarse bread crumbs.
Arrange fruit on dough artfully.
Sprinkle the topping over fruit.
Cover with plastic wrap and place in a warm draft free place for 30 minutes.
Bake for 45 minutes.