Streuseled Sweet Potato Casserole
GaylaJ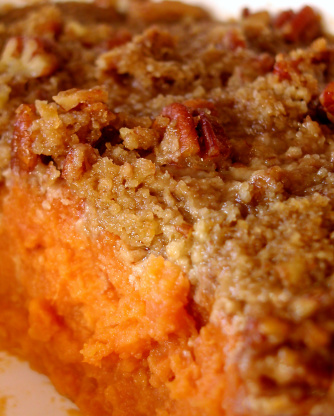 This is very good, not too sweet; a nice alternative to the marshmallow topped version. I got the recipe from Cooking Light Magazine and it is one I will be fixing for this Thanksgiving.
Preheat oven to 375 degrees.
Place potatoes in large pot of water and cook until tender.
Drain, cool slightly and peel.
Cut into chunks.
Combine the half-and-half and next 4 ingredients in a large bowl, stirring with a whisk.
Add potato to egg mixture, beat with a mixer at medium speed until smooth.
Spoon potato mixture into a 13 x 9-inch baking dish coated with cooking spray.
Combine flour and sugar in a food processor; pulse to combine.
Add chilled butter, pulse until mixture resembles coarse meal.
Stir in pecans; sprinkle over potato mixture.
Cover and bake at 375 degrees for 15 minutes.
Uncover and bake 25 minutes more or until the topping is browned and the potatoes are heated through.