Streusel Topped Blueberry-Chocolate Chip Muffins
Redsie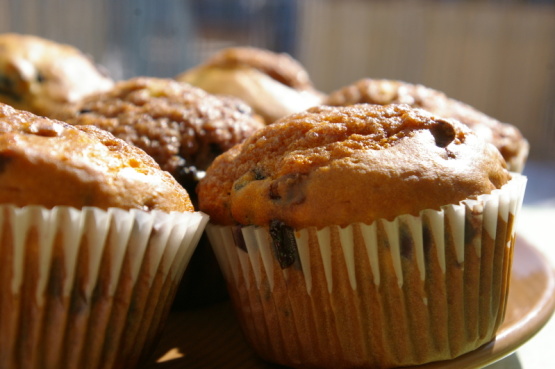 I love the combination of blueberries and chocolate. These are super yummy. The crunchy topping just put s them over the top.

They just came out of the oven and look (and smell) delicious! The batter came together well, but my 'streusel' topping didn't seem to work. It was more of a paste rather than a crumble (that might be my fault, not the recipe, not sure...). It tasted good, so I just put a dollop on each muffin before baking. They're moist and taste great!
Streusel topping:.
Combine ingredients well. Mixture will be crumbly. Set aside.
Muffins:.
Preheat oven to 400°F.
Line 12 large muffin cups with paper liners or treat tin with cooking spray.
In large bowl combine egg, buttermilk, sugar, butter and vanilla.
Add remaining ingredients and stir just until combined. Do not overmix.
Spoon batter into prepared muffin tin.
Sprinkle with streusel topping.
Bake in preheated oven for 20 -25 minutes or until toothpick inserted comes out clean.