Marz7215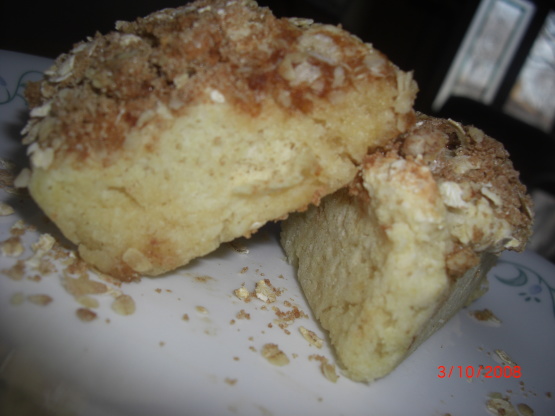 You can now have your scones and coffee cake in one! I made these this morning and they certainly deserve to be show cased here. Since you use buttermilk in this recipe it isn't too fatty, so will not make you feel all that guilty!

I made these earlier in the day, popped them in the fridge, and cooked them about 2 hours later. They were fantastic hot or cold. The only change I made was to not melt the butter for the topping. I just mixed with the other ingredients. They were a great addition to brunch and they are easy to make too. Thanks for the recipe.
Preheat oven to 400°F.
Combine the first five ingredients in a medium sized bowl. Add the butter and cut into the flour mixture with a pastry blender to make coarse meal.
In another bowl, combine the buttermilk and water. Add the wet ingredients to the dry ingredients and mix together gently, just until blended.
Turn the dough onto a floured surface, knead a few times, and divide into two equal sized balls. Pat each ball into a 6 inch circle, slightly mounded, and place on ungreased baking sheet.
In a small bowl mix together the topping ingredients until crumbly. Spread the topping over the top of the two 6 inch circles and gently pat inches.
With a floured knife, cut each 6-inch circle into 8 wedges, wiggling the knife slightly to separate the wedges from each other. When the scones are baked you will be able to easily pull them apart. The sides will be straight and soft.
Bake 15 minutes or until golden brown.