Karen..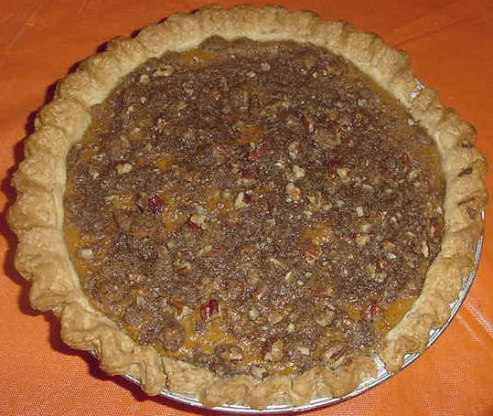 I'm so surprised this hasnt already been posted! I made this lastyear for a church picnic and got 2nd place in the pie contest. AND this guy tasted my pie and offered to pay me to make him some for Thanksgiving! And of course I took up the offer!! LOL! Make this, its so much better than the average pumpkin pie. You won't be sorry!!

This was very good, but we didn't like it as much as traditional pumpkin pie...not spicy enough for us. Also, the topping flavor seemed to get lost...I think it would be better with a little more topping. I will try this again, but would double the topping and add some spices to the filling. Thanks for posting.
In a bowl, combine flour, pecans and salt; cut in shortening until crumbly.
Gradually add water, tossing with a fork until a ball forms.
Divide dough in half.
Roll out each portion to fit a 9 inch pie plate; place pastry in pie plates.
Flute edges and set aside.
Combine pie mix, milk and egg; pour into pastry shells.
For topping, combine sugar, flour, pecans and cinnamon in a small bowl; cut in butter until crumbly.
Sprinkle over filling.
Cover edges loosely with foil.
Bake at 375 for 40-45 minutes or until a knife inserted near the center comes out clean.
Cool on a wire rack for 2 hours.
Refrigerate until serving.