Stream Skillet Salmon With Mirin - Longmeadow Farm
Peter J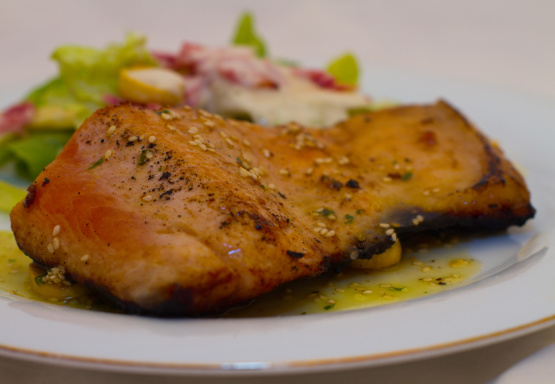 This recipe is adapted from Jacques Pepin and we love it. In the winter, if the wood stove is cranked all the way, I will put my cast iron skillet on our wood stove top, get hot, and sizzle the salmon right in the hot skillet. This recipe is still possible if you don't have a wood stove. A nice non stick skillet and a stove will suffice. A real nice tasting salmon with the lemon dressing drizzled on top.....well, it makes Dennis and my Dad real happy to come home from a long winter day.

Wonderful! The marinade and dressing were a great combination that perfectly complemented the salmon, slight tang but didn't overpower it in any way. I used salmon with skin on and placing it down once the skillet was hot followed by dropping it to medium-high resulted in a great crispy skin while being perfectly cooked through after turning.
Combine all ingredients of marinade in a ziploc bag. Add salmon steaks, seal bag, and put in refrigerator for at least 1 hour.
Make the dressing, whisk together all ingredients adding olive oil in a stream at end and whisk throughly.
Heat large non stick skillet until hot, hot, hot.
Remove steaks from bag, throw away bag.
Arrange steaks in skillet and now cook over medium to high heat for approximately 2 minutes.
Turn over when salmon has browned nicely and turn over and cook for 2 minutes more.
Serve the salmon steaks on a warmed plate with the juicy lemon dressing.