GaylaJ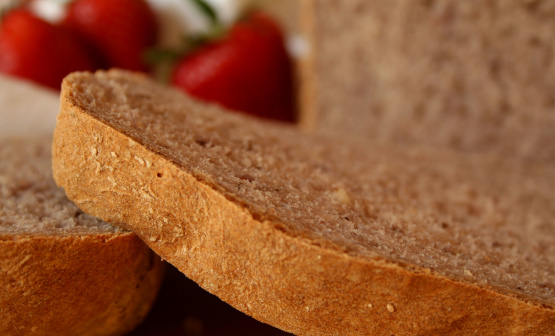 This bread is packed with sweet strawberries.

Top Review by GaylaJ
This recipe seemed unusual to me, as I usually associate fruit with moist quick breads, rather than a lean yeast loaf. I was interested and curious enough to try it, though, and it was a very nice change. I cannot remember a lot of preparation details, since I actually made this a couple of months ago and just realized I had not reviewed it or submitted the photo. I do remember the dough seemed quite dry at first, but after continuing to work with it, the strawberries released more of their juices (and I think I did end up adding more flour). The bread didn't have a strong strawberry flavor, and by the time I kneaded it to the consistency I thought it should be (using the KitchenAid), there really weren't any bits of strawberry left. But I found the bread had more potential this way, especially since it isn't very sweet. It was good with cream cheese, but I thought it would make a nice sandwich bread with the right filling. I decided a chicken salad that leaned toward the sweet side with a poppy seed dressing would be nice--I found Recipe #97588 and thought the salad went very well with this bread. It really wouldn't be hard to think of other unusual but tasty ideas for it (perhaps a grilled sandwich with just the right cheese, or maybe a Monte Cristo....). Anyway, this was a different way to use up some of my strawberries after I realized I had gotten carried away and bought too many. Thanks for posting!
Put sliced strawberries in a bowl, and pour sugar over them. Leave to sit about 10 minutes.
Dissolve the yeast in the warm water.
In a bowl, combine 3 cups of the flour, salt, baking soda, vanilla, cream, and strawberries, and yeast mixture. Knead to make a soft dough, adding more flour if needed.
Place in a greased bowl, and let rise until doubled, about 1 1/2 hours.
Punch down and put in a greased loaf pan, and allow to rise again for 1 hour.
bake at 350F for about 45 minutes, or until the top is browned.
Cooking time includes rising.