Juju Bee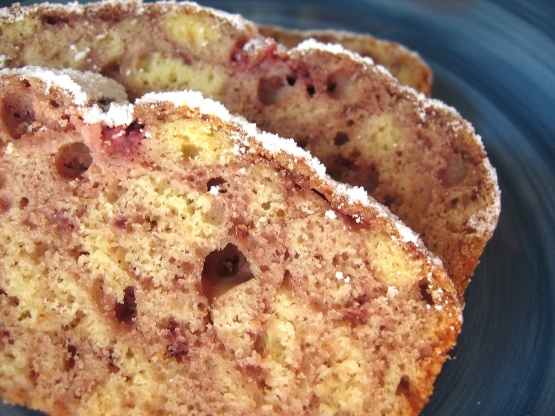 I'm hoping I can use fresh strawberries in this too. Yield is a guess.

The dough for this bread was VERY thick, it did make two loaves like you guessed. I did chop my thawed strawberries a bit before adding it to the dough. I am not sure if that made a difference or not. The flavor of the bread was not bad but just not as sweet as I was expecting, so I added powdered sugar to the top and it helped a lot. Thanks Marg for this recipe!
In mixer bowl combine sugar, corn oil and vanilla pudding.
Blend on medium speed, add eggs on low speed. Then mix on medium speed until mixture is creamy.
Combine dry ingredients and add 1 cup at a time on low speed, mixing thoroughly.
Add strawberries and 3/4 cup juice; mix well.
Pour into loaf pans; bake at 350°F for 50-60 minutes.