Strawberry Upside Down Cake
PaulaG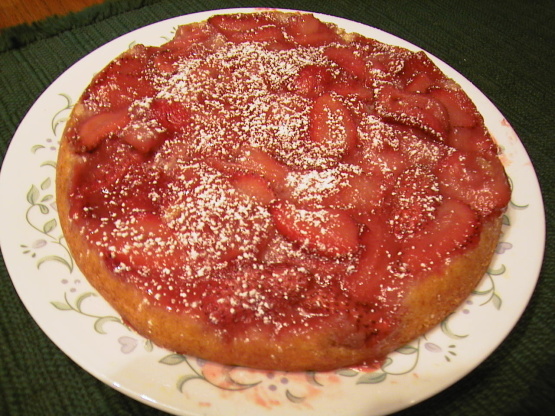 This recipe was a handout sheet at a U-Pick strawberry patch. Its a great dessert as an alternative to the traditonally strawberry shortcake.

I made this exactly as recipe. The cake was very good, topping was just like home made jame, but was too much as recipe called for. Next time I will half the toping and double the cake.
In a 9" cake pan mix together the first three ingredients and dot with 1 T butter, then set aside.
For the topping, sift together dry ingredients.
Cream butter and sugar; add egg and vanilla and beat well.
Add dry ingredients alternately with milk, beginning and ending with dry ingredients.
Spoon batter over fruit mixture.
Bake at 350 deg F for 30-35 minutes or until golden brown.
Serve warm, topped with whipped cream, ice cream or cream.