Leslie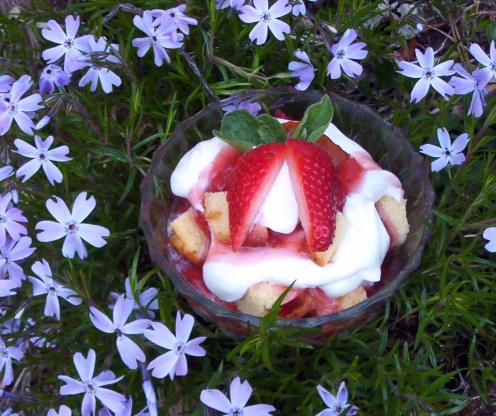 This is a version of a recipe which was from the California Strawberry Commission. It makes a beautiful presentation if placed in a Trifle or other glass bowl.

Great quick dessert that we all enjoyed. My 7 year-old could have eaten the whole bowl himself! Thanks, Carrol, for sharing your recipe!
Into a saucepan place 1 cup of the sliced strawberries, the sugar, and 1/4 cup of water.
Bring the mixture to a boil and then cook for 3 minutes.
Remove from the heat and mix the cornstarch/water into it.
Return to heat and cook until thick (about 2 minutes).
Add the lemon juice then cool mixture to room temperature.
Set aside a few slices of the unusued strawberries for a later garnish.
Fold in the remainder of the sliced strawberries to the cooked mixture.
Layer the ingredients in the following manner.
Put a layer of whipped topping in the bottom of the bowl.
Put a layer of pound cake cubes on top of the whipped topping.
Cover the cubes with a layer of the strawberry mixture.
Repeat these layers ending with a top layer of whipped topping.
The dessert may be refrigerated before serving is desired.
Before serving garnish with reserved strawberries and the sprig of mint in the center.