Rita1652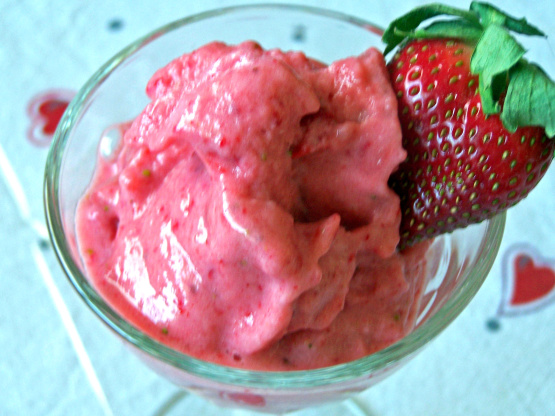 Try this easy, delicious frozen yogurt that is a wholesome treat.
Top Review by PaulaG
I followed Rita's lead and made this in the vita-mix. It will definitely give you a tingle--especially if you eat it to fast. I used a strawberry yogurt that was sweetened with Splenda and I left off the additional sugar. All the while I was eating it I kept thinking to myself "this is healthy".
Wash and trim strawberries.
Place the berries in the bowl of a food processor along with the yogurt and sugar, and whirl until uniform.
Transfer this mixture to a covered container and freeze about 2 hours or until the top turns icy.
Return the yogurt to the processor and whirl again until uniform.
Refreeze the dessert and serve within the next couple of days.