Strawberry Sweetheart Streusel Muffins
Tinkerbell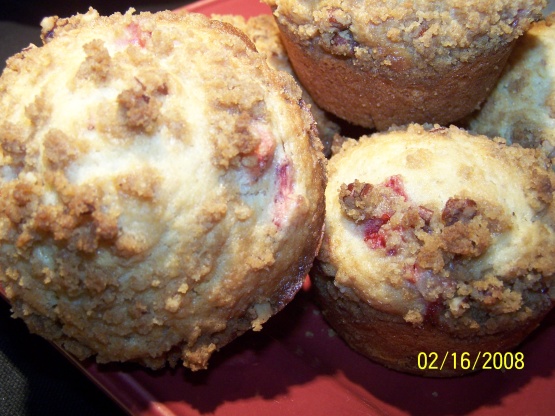 For a Romantic touch, bake these in heart shaped muffin tins.

Oh my goodness!! I decided to make these muffins in advance of Valentines Day and 'hide' them in the freezer for DH so that he has a nice breakfast treat to take to work. Well...that was super idea but I doubt they'll last 6 days. I tested one just as they're come out of the oven and pre:strawberry butter (not sure how they can possibly get any better)

One of my concerns on making this recipe was that I only had frozen strawberries. Not a problem. I'm sure they're great with fresh but in this case I was careful to drain surplus juice and toss with flour and the muffin was perfect. Thanks for a great recipe Sue!
Preheat oven to 375°F.
Grease bottom and sides of 18 cup muffin tin/s.
Mix together ingredients for streusel and set aside.
Mix together for the muffins the flour, sugar, and baking powder.
Separately, mix together the milk, melted butter, beaten eggs and vanilla.
Gently mix the wet ingredients into the flour mixture.
Fold in lightly floured chopped strawberries.
Pour mixture into prepared muffin tins and top with streusel mixture.
Bake at 375F for 25-30 minutes until toothpick comes out clean.
Allow muffins to cool for 10 minutes before trying to remove them fom the pan (or they will stick).
Finish cooling muffins on a wire rack.
To make strawberry butter, mix together thoroughly the soft butter and powdered sugar. Fold in the strawberries and toasted pecans. Chill until needed and soften before serving on split muffins.