Strawberry Squares - South Beach Style
Pixie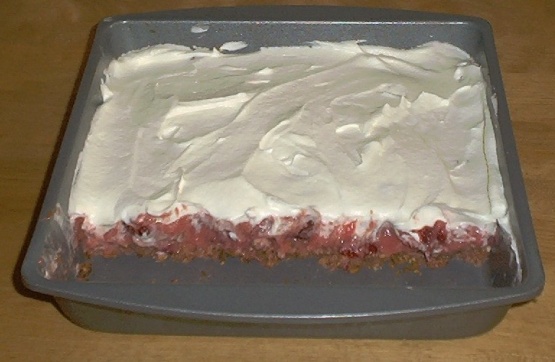 Suitable for south beach diet phase 2. Cook time includes chill time. If you're one of the people who finds Splenda too sweet, you may want to reduce the amount used, or skip it. Note: "Kashi GOLEAN" is a brand of cereal which is a high fiber soy protein product, a serving has 1 gram fat, and 10 grams fibre. This is readily available in grocery stores here in Halifax, Nova Scotia and may be in your area as well. See www.kashi.com for details.

I spent several minutes crushing the cereal, and I never got it completely into "fine crumbs". The crust never really became a crust after cooking it. Instead it was just crunchy crumbly crumbs. After being refrigerated for several hours, the crust became kind of soggy. The taste of the strawberry mixture reminded me of strawberry mamba candy, (I used to eat that all the time when I was a kid). Overall, this ended up tasting pretty weird.
Preheat over to 350°F.
Spray a 8" by 8" (or 9" by 9") non-stick square pan lightly with cooking spray.
Mix the kashi, 2 teaspoons of splenda and sunflower oil and press evenly over the bottom of the pan.
Bake for 10 minutes then remove from oven and cool.
Mix the boiling water and the strawberry or raspberry Jello and stir until Jello is dissolved, put mixture in refrigerator until cool but not set.
Mix the jello mixture with the skim milk and add the vanilla pudding mix, beat until lump free then stir in the strawberries.
Pour the strawberry mixture over the cooled kashi crust, and spread to even out the strawberries.
Chill until well set, then if desired, spread ultra low fat cool whip evenly over the top.