Strawberry, Sour Cream and Brown Sugar "samwishes"
gailanng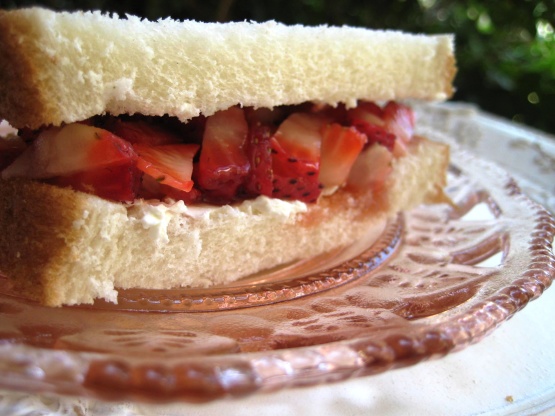 I was browsing just now and came upon a recipe for a strawberry and cream cheese sandwiches, and it sent me down Memory Lane to when I was a kid. We used to make "samwishes" out of things that would make your stomach curl! lol! We made sugar and butter sands, cabbage and ketchup sands, and this one, my favorite, I will share with you. Since this is a thing that we kids made up, you'll just half to adjust the given ingredients. You may want to toast the bread, or even use another kind. I have even used English muffins, toasted. Thanks for looking into my past and I hope you'll enjoy this as much as I did as a small child. Time doesn't include chill time, if you choose to chill it. Note: you can use low-fat or fat-free sour cream if desired (and may use more of less)as well as a brown sugar substitute, if desired. Note* If strawberries are out of season, you can use strawberry jam or preserves, your own or store bought. They're really delicious this way too!

One problem: 450 degrees for 15 minutes was too hot or too long--the bottoms of the biscuits were scorched. But the non-burnt part was delicious-- fluffy and slightly sweet. I would probably reduce to 425 next time.
6 -8

large strawberries, sliced, lightly mashed

2

tablespoons brown sugar, make sure that the brown sugar is well dissolved (you may use brown sugar substitute)

4

slices white bread
1⁄4 cup sour cream
Slightly mash the strawberies, breaking the skins. Note: you'll want to mash the strawberries so that they're the same size, so they will fit on the bread better).
Add the brown sugar(more or less to your taste).
At this point,you can chill the mixture in the fridge if you want it cold.
Spread the sour cream on the white bread.
Spread the strawberry/brown sugar mixture onto the bread slices.