Strawberry Sorbet Sensation
AMDmtmom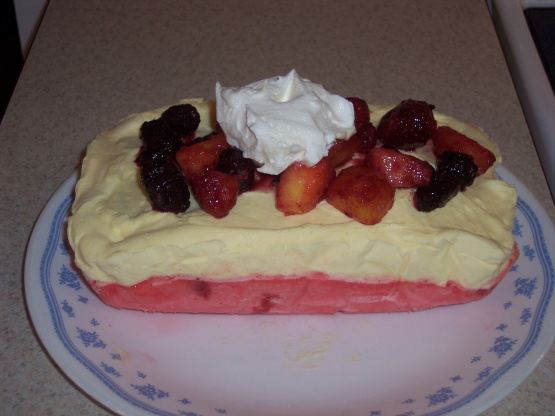 From Light and Tasty. This looks like a great refreshing dessert for summer. I don't use fat-free ingredients, but I think the regular equivalents would work just as well. (If using regular pudding mix the weight will be greater--a 3 or 4 oz box I think). Cook time is freezing time. ZWT 3: U.S. (strawberries)
Line a 8x4 loaf pan with heavy-duty foil.
Spoon sorbet into pan, freeze for 15 minutes.
In a small bowl, whisk milk and pudding mix for 2 minutes.
Let stand for 2 minutes or until soft-set.
Set aside 1/2 cup whipped topping for garnish; refrigerate until serving.
Fold remaining whipped topping into pudding and spoon mixture over sorbet.
Cover and freeze for 4 hours or overnight.
Remove from the freezer 10-15 minutes before serving; unmold onto a serving plate and remove foil.
Serve with the strawberries and reserved whipped topping.