Chef floWer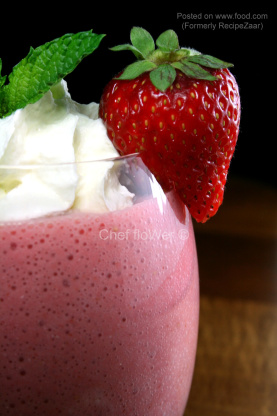 You'll want an avalanche of this delicious snow. This recipe was given to me by a friend, Anne. It was a highlight of the menu for my oldest daughter's 21st birthday. Very easy and quick to make. For those who use imperial measure, 500 grams is just over a pound. Please see the note at the bottom.

My 3-star rating is a neutral one for the simple fact that I don't know what the consistency of the final product is. Liquid-y like a smoothie? More "Jello" or pudding-like? The recipe is super quick and easy to make but I cannot give a definite star rating at this point. I chose to whip the egg whites on their own. When the egg whites were whipped with the strawberry puree and sugar they whites did not become stiff.
Puree strawberries in a food processor or blender.
Combine strawberry puree, egg whites and sugar in a bowl and beat until stiff and glossy.
Add vanilla to cream, and whip mixture until peaks form.
Gently fold cream mixture into strawberry mixture.
Spoon into a serving bowl and garnish with strawberry slices and mint (if desired).
Cover with plastic wrap and refrigerate until you are ready to serve.
This can be made a day ahead. Good luck keeping everyone else in the house out of it.
Note: A recent reviewer had trouble getting the mixture to set like a pudding. I should have stated that this recipe does not work if you beat the egg whites separately. The strawberry puree, egg whites and sugar need to be beaten together for this to work properly. I know this only because I tried it the other way once by mistake.