Calee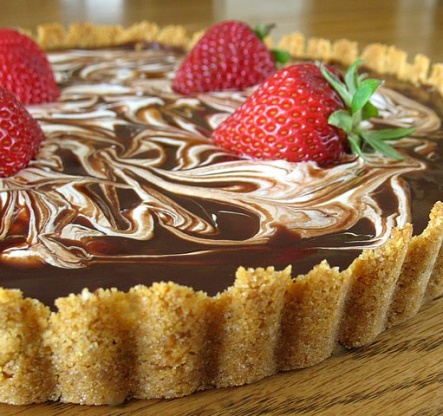 I found this in a Pillsbury book and it looks incredible! I wish I could post a picture. I haven't tried it yet but wanted to add it here so I wouldn't forget about it.

I was really pleasantly surprised at how really EASY this dessert was. I did add sliced strawberries instead of whole, as another reviewer suggested. Also, when you put the marshmallow creme in the microwave, be sure to put it in a large enough bowl...or else you get exploding mallow creme. Beware! Anyway, rave reviews from all, and I'm definitely making this again.
Heat over to 350. In small bowl, combine all crust ingredients and mix well. Press mixture into bottom and up sides of 9-inch tart pan with removable bottom or 9-inch pie pan. (if using tart pan, place on cookie sheet for easier handling). Bake 10 minutes and cool.
Meanwhile, in medium saucepan, heat whipping cream until bubbles form around edge of pan. Remove from heat; add chocolate and stir until melted. Cook over low heat until all of chocolate is melted, stirring constantly. Cool to lukewarm (about 5 minutes).
Place sliced strawberries in single layer in crust. Pour melted chocolate mixture over strawberries. Place marshmallow creme in microwave-safe bowl. Microwave on medium for 30 seconds or until softened. Stir just until smooth. Quickly drop marshmallow cream by spoonfuls over chocolate layer. With tip of knife, swirl marshmallow creme and chocolate to marble it. Arrange 8 strawberries even around edge of tart. Refrigerate at least 30 minutes before serving to set chocolate.