Bev I Am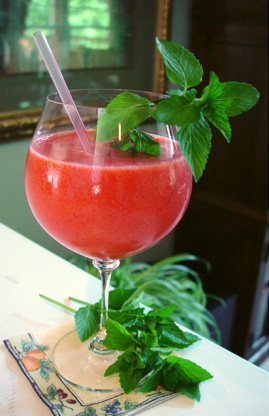 This is a lot like those strawberry julius' that you get at the mall. Nice refreshing change of pace.

Wow! - is this a delicious drink! The texture is like a smoothie (not so much like a slushy) and it's so good. I used 2 cups of fresh strawberries and the whole 1 cup of ice (the ice disappeared and created a thick frothy consistency but I imagine if I'd have added more ice it would have been more icy like a slushy). I, personally, wouldn't change it from how I made it tonight though because it was perfect. Thick and fruity. I didn't have lime juice so I used all lemon juice. Oh - and I added 1/2 cup of white rum to the second batch we made. Happy happy happy!
Reserve 2 strawberries for garnish, puree the remaining in a blender or food processor.
Add the remaining ingredients, blending well until smooth and foamy.
Garnish each serving with a fresh strawberry.