Strawberry Shortcake With Balsamic Honey
gailanng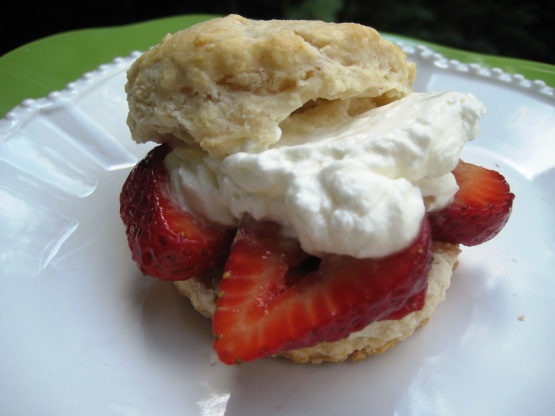 Fresh strawberries tossed with balsamic and honey, poured over homemade biscuits and topped with whipped cream. Absolutely decadent! Make sure to have all the ingredients well chilled before beginning. NOTE: I have tested this recipe subbing baking-mix or fridge biscuits, subbing pre-whipped cream, and subbing frozen strawberries. It will work successfully, however the results do not compare to making it 'correctly'.
Preheat oven to 350°F
Place all dry ingredients (for biscuits) and shortening in the bowl of an electric mixer. Mix, using paddle attachment, until crumbly.
Add buttermilk and mix just until dough comes together.
Gently roll out dough to 3/4-inch thickness and cut 4 biscuits with a round cutter. (a glass also works well).
Glaze with egg wash and bake 15-20 minutes.
Split the biscuits in half horizontally.
Toss the berries with balsamic vinegar and 1/2 of the honey. Set aside.
Whip the cream in a small mixing bowl to soft peaks.
Add the remaining honey and whip to stiff peaks.
Spoon the strawberries over the bottom half of each biscuit. (Make sure you use that sauce as well!).
Spoon the whipped cream over the strawberries and finish by placing the top half of each biscuit on the cream.
Garnish with mint and serve immediately!