Strawberry Shortcake Sundaes for Two
Um Safia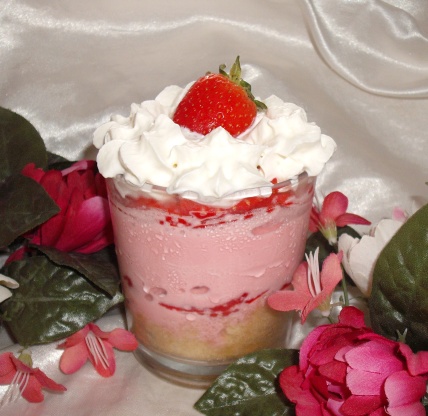 I came up with this recipe to help use up all the strawberry ice cream I've ended up with. I like to serve these sundaes in tumblers / mixer glasses but you could use any glass you prefer. If you do not have fresh strawberries, frozen strawberries which have been drained are fine (spoon a little juice over the sponge if you like!). This is a very quick dessert to put together & is beautiful to look at.

Really good dessert! Also very easy to make. I used a big glass bowl to make the dessert in and used chunks of angel food cake and put that in the bottom, and put the ice cream on top and then some more cake and straawberries and then the whipping cream and garnished it with strawberries and oreo cookie crumbs. Thank-you for posting!
1 -1 1⁄2 cup strawberry ice cream

2

pieces vanilla sponge cakes (I use a basic victoria sponge cut to the size of my tumblers)

1

cup whipped cream (or you can use squirty cream)
Place the sponge cake in the bottom of each glass. Press down gently to make sure the entire base is covered.
Hull & slice 2 strawberries & cover the sponge bases.
Spoon the ice cream over the top of the strawberries.
Hull & slice 2 more strawberries & cover the ice cream.
Pipe the whipped cream over the top of the strawberries & top with the remaining whole strawberries.