Strawberry Shortcake (Puff Pastry)
diner524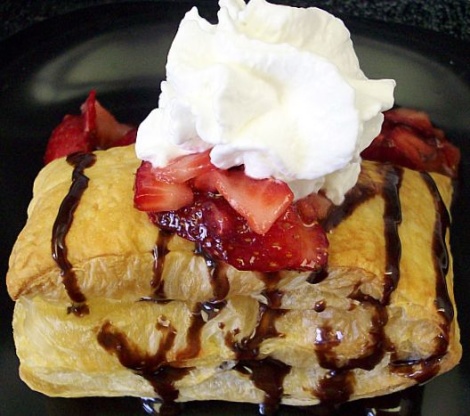 These are sooooo yummy and very easy. It takes just a few minutes to prepare the strawberries and only seconds to prepare the puff pastry. This is a great summer recipe.

You cannot get something any simpler that showcases as a truly fabulous dessert for family & friends. The only little tweak I did was to use a 1/2 cup of blueberries too in addition with the strawberries as we love that mix. I'll be using this method often as it is so super simple but tastes out of this world. Made during ZWT6.
Wash and slice strawberries into thin slices.
Put in a bowl and pour sugar over them.
Mix together until well coated.
Let sit in the fridge for at least 3 hours. (The longer the better.).
Let puff pastries thaw. (cover with plastic wrap, so they don't dry out).
Preheat oven to 400.
Unfold strips and cut into squares.
Place on ungreased cookie sheet and bake for 10 to 15 minutes.(Until golden brown).
Let pastries cool. (about 10 minutes).
Serve by placing one pastry in a bowl, spoon strawberries over it and top with whipping cream.
Tastes out of this world!