Strawberry Shortcake Cocktail
This is a drink from Ricardo that I have not try yet. But I'll try it this summer with fresh strawberries. I had to share with you. I can't wait to see your photos. Cause the one in the issue of Ricardo looks very tempting. The drink is for 4 persons. But with the converter, you can scale it down to 1-2-3 persons or the number you want.
Directions
You need : 4 daiquiri glasses, put in the freezer (or martini glasses).
In a bowl, whisk heavy cream, lemon zest and honey until firm peaks. Set aside in the fridge.
In a blender, puree fresh and frozen strawberries, apple juice, rum, sugar and lemon juice.
Put the graham crumbs in a plate.
Remove the glasses from the freezer. With the wedge of lemon, moisten the edges of each glass, them dip in the graham crumbs.
Distribute the cocktail in each glasses. Garnish with whipped cream. Garnish with slices of strawberries.
Most Helpful
One word.... YUM! A perfect blend. We used all frozen strawberries as fresh ones are not in season right now, Cool Whip for the whipped topping, and when we ran out of rum after the 1st batch, we used a blending of Amaretto and Grand Marnier and it was even better! The graham cracker crumb topping makes this a hit! Thanks for posting an awesome dessert cocktail. :)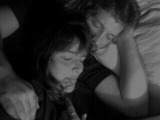 Fantastic liquid dessert!
We really enjoyed this drink, but kept thinking it needed a little something extra to give it some zing. I cut it down to one serving and still had enough for almost two full drinks. I tried adding a little more rum and lime to what was left for the second glass, the extra rum was good but the lime took it in the wrong direction, maybe some chambord??? We used all frozen strawberries which was good as it was just barely cold enough by half way through the drink. The graham cracker crumbs are a perfect touch, they really complimented the flavor of the drink. I did cut the sugar by 1 Tbls, and the sweetness level was just right. The whipped cream is unusual, I'm not sure if I liked the lemon with the strawberry, it's barely sweet, so I would probably make it a little sweeter the next time, though the leftovers turned out to be perfect for a piece of blueberry pie we had for dessert. We'll be making this again, thanks Boomette for another lovely drink.