Strawberry Shortcake a la Treebeard's
moreCakePlz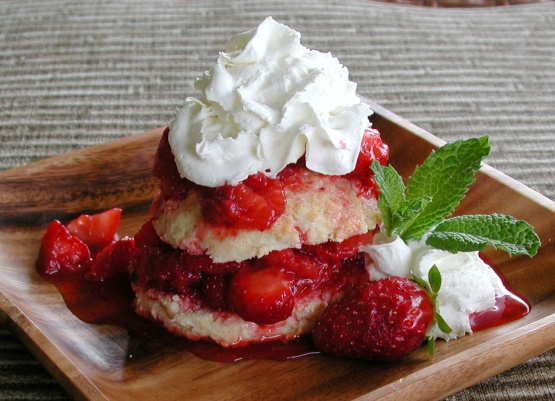 This recipe was shared by Treebeard's Restaurant in Houston. It's not difficult to make, looks beautiful and tastes out of this world! Prep time includes chilling time.

PanNan, this recipe was so much fun to make! Your directions were simple to follow and I had excellent results! From the shortcake to the whipped cream, every bite was a taste treat! This shortacke has a nice sweetness to it that other shortcakes seem to miss. The strawberry filling w/ the added vanilla extract was sensational! The whipping cream with the added, not only confectioner's sugar, but also sour cream was incredible! This is a dessert that would definitely be considered "Company Worthy" in my book! Thank you so much PanNan, for bringing this wonderful recipe to Zaar!
Preheat oven to 450 degrees; grease a cookie sheet.
To make Shortcake, with knife blade attachment on food processor, process flour, baking powder, salt, brown sugar, butter and 2 teaspoons granulated sugar until mixture resembles coarse meal.
Pour mixture into medium bowl.
With wooden spoon of paddle attachment on electric mixer, add milk and mix just until it forms a smooth dough.
Scoop dough onto cookie sheet in 6 equal mounds.
Dust top of shortcakes with remaining 2 teaspoons granulated sugar.
Bake 15 to 20 minutes or until golden brown.
Remove from oven; transfer to wire rack and cool.
To make Filling, in a medium bowl, mash one-half of berries.
Mix with granulated sugar and vanilla.
Refrigerate 1 hour.
To make Whipped Cream, in a chilled mixing bowl, beat cream with confectioners' sugar, granulated sugar and vanilla until it just holds soft peaks.
Add sour cream; beat until stiff peaks form.
Cut off tops of shortcakes; set aside.
Spoon Filling onto bottom of each shortcake.
Cover with Whipped Cream and remaining sliced strawberries; replace tops.
Garnish with a dollop of whipped cream, a strawberry half and a sprig of mint.