Strawberry Shake for Diabetics
Annacia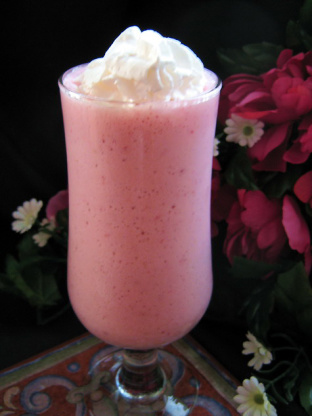 Another recipe that I love! Quick, easy and very tasty.

WOW, This is great and I can't believe that I'm the first to review it! What an ideal way to use those berries that are lopsided, flattened or otherwise less than "presentation perfect". This was tonights dessert after a nicely spiced meal and I sipped slowly to enjoy it as long as possible. It stays thick for a long time and the ripe fresh berries make it better than anything artificial that you get from the restaurants. This formula would be great with blueberries, peaches or any ripe fruit or berries that you have on hand. Bravo.
1⁄3 cup low-fat sugar-free frozen vanilla yogurt
1⁄4 cup crushed ice
1⁄4 cup skim milk

6

large fresh strawberries, stemmed and cut in half
1⁄4 teaspoon strawberry extract (or you can use vanilla)
In a blender, combine the frozen yogurt, crushed ice,and milk, turning the machine off and on several times until blended, about 1 minute.
Add the strawberries and vanilla.
Blend for another 30 seconds, until strawberries are finely chopped.
Pour into a tall glass and serve.