Katzen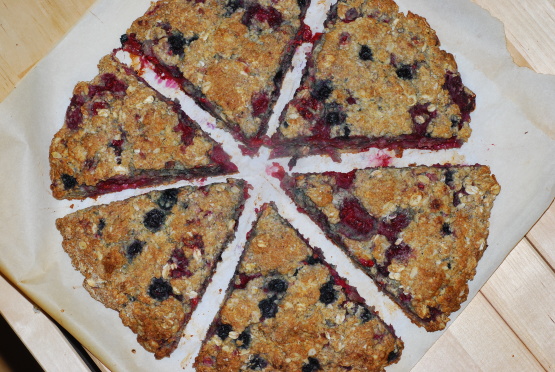 These are oat-based, which makes the different from other strawberry scones on Zaar. The original recipe is from Prevention; I have made some tweaks to suit our preferences. See the directions below for ingredients/instructions for an optional strawberry glaze.

Top Review by Katzen
Really good! I didn't have strawberries, so I used raspberries and blueberries (frozen), which worked well. I love the different textures of the oats and whole wheat flour! I also didn't have any yogurt around, but I DID have some low fat sour cream, which I used instead, and bumped up the vanilla to compensate. These were simple to make and delish! Thanks, Smelly! Recipenapped for Veggie Swap 19.
Preheat the oven to 400°F Coat a baking sheet with no-stick spray.
In a large bowl, combine the oats, all-purpose flour, pastry flour, baking powder, baking soda, salt, and 1/8 cup of the sugar. Add the butter or margarine and cut into the flour using the back of a fork until the mixture resembles coarse meal.
In a small bowl, lightly beat together the egg, yogurt, oil, and vanilla. Add to the flour mixture, stirring with a fork just until the dough comes together. Add the strawberries and mix gently.
Transfer the dough to a floured surface. Pat into an 8" circle; cut into 12 wedges. Place the wedges on the baking sheet. Brush with the egg white and sprinkle with the remaining 1 teaspoon sugar. Bake for 18-20 minutes, or until golden. Watch them carefully, as they will get crispy easily.
To make the strawberry-yogurt sauce: In a small bowl, stir together 2/3 c yogurt, 1 T strawberry jam, and 1 T sugar until smooth. Stir in 2/3 c strawberries.
Serve with the scones.