Ms B.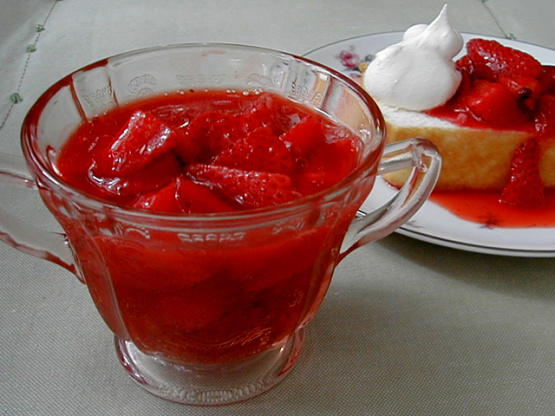 Delicious over ice cream or a plain cake with whipped cream.

Made crepes with chocolate mousse. Wanted to add a strawberry sauce that I could drizzle on top, so I made this recipe, but then pur?ed it. I added just a little more lemon to give it a bite, otherwise followed the recipe. After plating the crepes I poured the warm pur?e into a metal creamer, added about a tablespoon of heated rum to the top and lit it. After the oohs and aaahhhs I stirred the sauce and ladled it onto the plates. Delicious! Great recipe. Will try it with raspberries next time. Thanks Evelyn!
Combine ingredients in medium saucepan over medium-low heat; stir gently until sugar dissolves and berries are soft, about 10 minutes.
Remove from heat and cool.