GaylaJ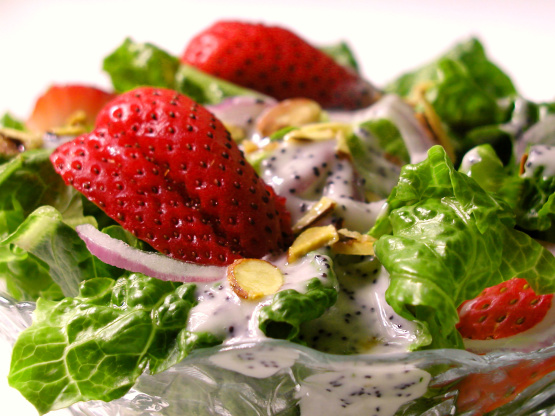 Sugared almonds and a poppy seed type dressing top this wonderful romaine and fresh strawberry salad.

I made this to have when company was coming and it went so nicely with our Clam Casserole. I loved the crunch, sweetness, and overall taste of this salad. Great to have for Valentine's Day too! What better way to say I love you then with a beautiful red and green salad that is delicious and so pretty on the plate!
In a saucepan, over medium heat, melt 2 tablespoons butter, stir in sugar and almonds and cook until golden brown; remove from heat and allow to cool slightly.
Combine lettuce, strawberries, onion and the sugared almonds.
Mix dressing ingredients together and toss with salad.
Chill for a short time and then serve.