Marlitt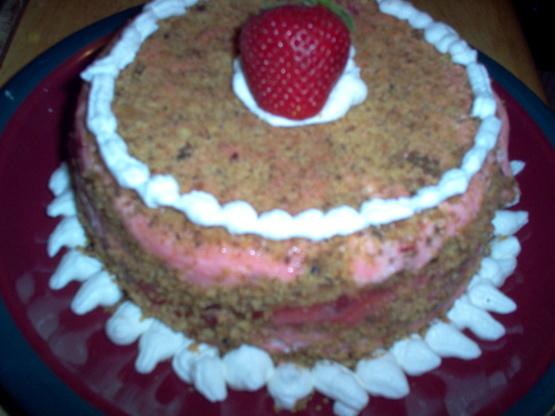 This recipe comes from a Women's Institute cookbook I picked up at a National Trust gift shop. I haven't tried it yet, but plan on trying it soon. It sounds delish! Cook time is estimated chill time.

This turned out very nice. I followed the recipe exactly. I couldn't find my jelly mold so I made it in a glass dish I usually use to make trifle in. It sure didn't last long. I only had time to take the pictures and it was gone. My kids had a couple of friends over. Thank you for the recipe.
Rub together the butter, demerara sugar, slour and walnuts as if making pastry. Scatter the mixture over the bottom of a shallow baking tin. Bake in a preheated moderately hot oven,(200*C/400*F)for 10 to 15 minutes, until golden brown. Cool, then crumble into a bowl.
Dissolve the gelatin in the water. Put one quarter of the strawberries into a saucepan with the lemon juice and sugar and mash well.
Bring to a boil, then remove from the heat and stir in the gelatin. Strain a little of this mixture into a 2 1/2 pint ring mold, to coat the bottom. Chill until set. Let the remainder of the strawberry jelly cool but not set.
Fold the remaining strawberry slices into the whipped cream. When the jelly is on the point of setting, fold in the strawberries and cream.
Immediately make alternate layers of the strawberry mixture and crumbs in the ring mold, starting with strawberry and ending with crumbs. Chill until set.
Turn the ring out of the mold onto a serving platter. Pipe the whipped cream for the decoration around the base of the ring and add the strawberry slices.