Strawberry Ricotta Hotcakes
diner524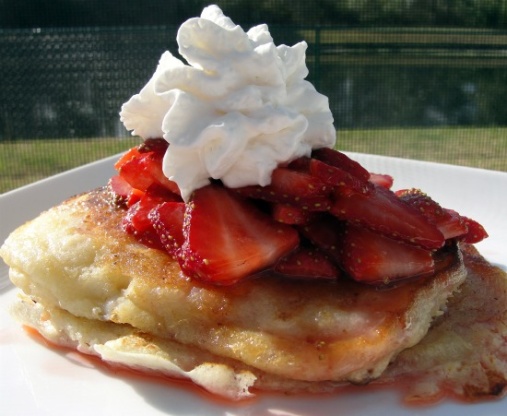 A yummy recipe from Bradley Ogden's Breakfast, Lunch & Dinner
Absolutely wonderful breakfast!!! I made these as written, except I only put 1 TBSP sugar into the batter and the other one with sliced fresh strawberries and didn't add any strawberries to the batter, just topped the cakes with the sweetened berries. My only tip would be that you may want to lower the temp on the stove (compared to cooking normal pancakes), as these seem to burn quicker with the ricotta cheese. Soo good!!! Thanks for sharing the recipe. Made for 123 Tag Game.
In a large mixing bow, sift together the dry ingredients. In a medium bowl combine the melted butter, ricotta cheese, milk, egg yolk, and lemon zest. Mix well. Make a well in the dry ingredients and add the milk mixture, stirring until the dry ingredients are just moistened. In a small, dry clean bowl beat the egg white until soft peaks form. Gently fold the egg white into the batter. Add the berries, being, being careful not to overmix. Cook according to the hotcake technique below.
Hotcake Technique: Grease a seasoned pancake griddle, if necessary, and place over moderate heat. The griddle is hot enough when a few drops of water dance on the surface. Using a scant 1/4 cup of batter for each hotcake (unless otherwise instructed), pour the batter onto the hot griddle.
Cook the hotcakes on the first side until they are puffed and full of bubbles, looking dry at the edges, then turn and cook for one minute or until cooked through.
Serving Suggestion: Dust with powdered sugar, garnish with sliced strawberries, and serve with Pistachio Praline Butter.