michEgan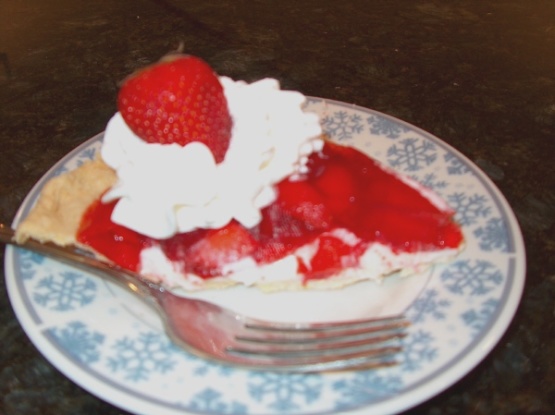 I have not made this yet but intend to very soon. Posting this for the 2005 strawberry recipe swap contest. Cooking times are approx. because I don't know how long it takes until the mixture "mounds".

This is an excellent pie for those hot summer months! The Pie is light and very refreshing. The cream cheese layer goes so well with the strawberry topping. My faimily really enjoyed it. I made a shortbread crust which is 1/2 stick butter to 1 c. flour. It really gave the pie an excellent flavor too. Also, instead of frozen starwberries, I used chopped fresh strawberries. It was Yummy all the way! The chill time for me was about 1 hour before the jello part mounded.
In a small saucepan combine strawberry gelatin, sugar and boiling water.
Add strawberries and lemon juice, mix well.
Refrigerate.
Stir every half hour until mixture mounds.
Then whip the cream cheese in a seperate bowl with the confectioner's sugar , vanilla and salt.
In a third bowl whip the heavy cream to soft peak stage. Fold the whipped cream cheese mixture into the whipped cream.
Pour this mixture into the pie shell.
Pour the strawberry mixture over that, refrigerate until ready to serve.