DuChick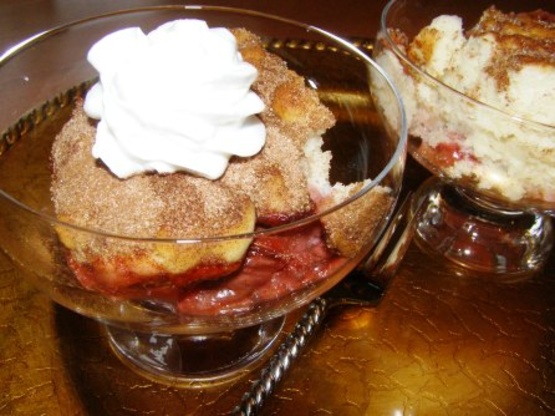 This one comes from my Mother-in-Law recipe cards. I have tried it made with only strawberries or peaches and strawberries together. They all turn out very good !!!

My rhubarb-loving husband really liked this and said it had the perfect sweet/tart ratio. I had a few problems with the recipe: since I'm unable to buy frozen rhubarb around here, I used my own that I froze earlier this summer. I wasn't sure if I should weigh out 16 oz. or measure 2 cups. I ended up measuring 2 cups, but the fruity layer didn't seem very thick, so possibly a 16 oz. bag holds more than 2 cups. ??? Also, the batter mixture was so thick and dense that I needed to add another 1/4 cup milk to make it spoonable. Next time I'd add more rhubarb. MERP'd for Bargain Basement tag game.
Heat oven to 400º F.
In an ungreased 9x9 inches pan, mix strawberry, rhubarb and 1/2 cup sugar.
Take to the oven, uncovered, for 15 minutes.
In a medium bowl, mix flour, baking powder, salt and 2 tablespoons sugar.
Combine oil and milk in a small bowl. Pour it all at once into flour mixture. Stir with a few strokes.
Spoon batter over the fruit.
Mix 2 tbsp sugar and 1 tsp cinnamon. Sprinkle on top.
Bake for 20 - 25 minutes.
Serve warm.