Tiggrr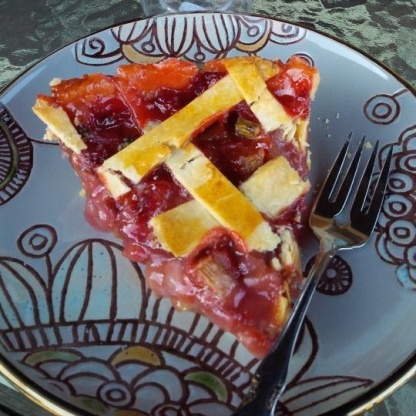 Lower in colesterol than most recipes but still delicious! Use your own pastry recipe, store bought pie shells, my recipe for Pastry With No Trans Fat or my recipe for Whole Wheat Canola Oil Pastry - depending on how healthy you want it to be. Cover the filling with a full crust, lattice or use the topping from my Rhubarb Crumble Pie (#91390) and enjoy!

Top Review by Tiggrr
Nothing says Spring like Strawberry Rhubarb pie and this was a hit. I have always been afraid of pie crust but decided to face my fear recently and began making it. Today's lattice top was another 1st for me. It may not be pretty but gosh it was delicious and not overly sweet.
Toss all ingredients together& scrape into pie shell.
If covering the filling with pastry, moisten the edge of pie shell; cover with pastry top.
Trim, leaving 3/4 inch overhang; fold overhang under pastry rim.
Seal& flute edge.
Whish the yolk of 1 egg with 1 tbsp water& brush over pastry.
Sprinkle with sugar& cut 4 steam vents in the centre.
OR cover filling with a lattice of pastry strips.
OR cover filling with the crumble mixture from recipe#91390.
Place a foil-lined baking sheet (to catch drips) on the bottom rack of a preheated 425F oven.
Place pie on rack above& bake for 20 minutes.
Reduce heat to 350F& bake until golden with filling bubbling, about 55 to 70 minutes, shielding the edges with foil if browning too quickly.
Let cool completely on rack.