twissis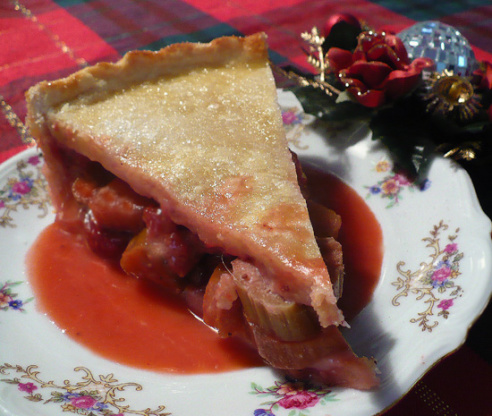 This recipe has been inspired by the pie I make that my mother loves most. She has always said that when you put rhubarb in a pie recipe, always add an egg in the filling. Created for RSC #11.

Made exactly as written for the Dec Aussie/NZ Recipe Swap, I knew 5 cups of the fruit w/more ingredients to add would never fit in my shallow 9-in pie plate. So I used a 10-in rd baking dish & my frozen summer supply of both fruits. Both cut easier if partially frozen, so I began w/the fruit & put it in a strainer to fully thaw + drain its water content. I had the ideal amt of crust for my baking dish & it handled easily. Pies often cut awkwardly, so I use air slits to prepare for the cut & scored the top crust for 8 servings as in the pic. My crust edges were dark brown w/15 min cook time to go, so I tented the pie. For pure taste, this pie is exceptional but I wonder if the oven temp can be reduced & cooking time lengthened to correct for the quick browning of the crust edges. The filling was more liquid than some will prefer, but prob my bad for not paying enough attention to a prior review & adjusting for that. We really loved this pie ~ esp my strawberry-loving guest. Thx for sharing this sure to be repeated recipe w/us. :-)
CRUST.
In a large bowl, sift together flour and salt.
Rub or cut (using a pastry cutter or two knives) the butter into the flour mixture, until it all looks like small peas.
Beat together egg, cold water and lime juice.
Gradually add liquid mixture to flour mixture, stirring gently with a fork. You may need to add the 6th tablespoon of cold water. Do not overwork the dough or your crust will be tough.
Shape mixture into two balls, wrap each in wax paper and refrigerate for 20 minutes.
FILLING.
Combine all the filling ingredients, in a large bowl, in the order listed. Stir well and let sit for 10-15 minutes.
Just before rolling out the pie crust dough, start to pre-heat the oven to 400°F.
ASSEMBLE.
Flatten and roll out one ball of pie crust and use it to line a 9 or 10-inch pie pan. I use a 10-inch pan. For ease of handling, roll out the crust between two sheets of floured wax paper; also flour the rolling pin.
Pour pie filling into crust.
Flatten and roll out second ball of pie crust. Use it to cover the filling, then crimp around the edges.
Cut air slits.
Brush top crust with finishing lime juice and sprinkle with sugar.
BAKE.
Put in 400°F oven for 40 minutes or until rhubarb is tender.
Let rest for at least 60 minutes (one hour) before slicing.