Strawberry Rhubarb Muffins
Redsie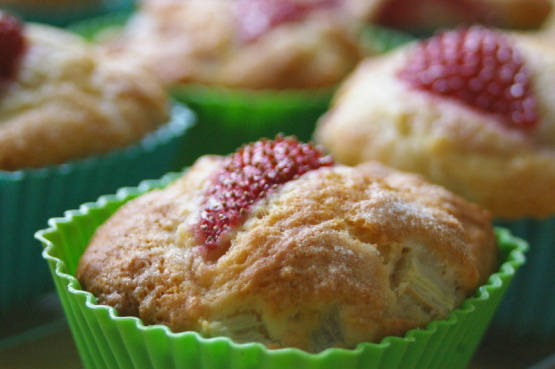 What a wonderful way to start your morning! Add a cup of hot tea and a fruit cup and you're all set!

Made these for Easter morning (with the leftover fruits for a pie). These were very easy to make. I took a hint from ksparker's advice and coated the strawberries and rhubarb in 1/8 cup of sugar before mixing it into the mix. No tartness here. :) Thanks for this delightful recipe to unberry ourselves. :)
Heat oven to 400 degrees.
Mix flour, baking powder, sugar, and salt in a large bowl.
Combine egg, milk, and oil in a small bowl; stir into flour mixture with a fork JUST until moistened.
Fold in rhubarb and sliced strawberries.
Fill paper lined muffin tins 2/3 full with batter.
Press a strawberry half gently into top of each muffin.
Sprinkle tops generously with sugar.
Bake until golden, about 20- 25 minutes.
Cool before serving.