Strawberry Rhubarb Custard Pie - Rich Version
MC Baker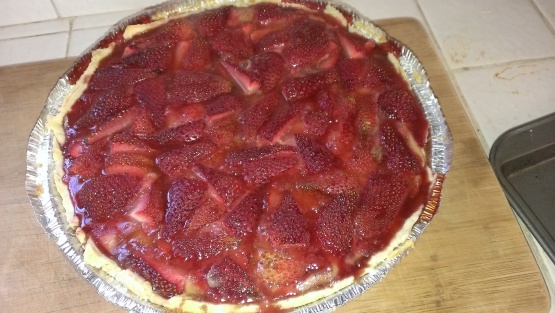 I made two pies with this recipe, and umm... they were amazing! I brought one to work and everyone was happy. The other was almost completely devoured after we made it. The recipe is a joint effort with my friend that is a crust expert to take my quick and easy strawberry rhubarb custard pie to the next level. I'll post the other recipe as well
Preheat oven to 350°F.
Cut butter into flour with salt using a fork until the mixture has the consistency of lumpy sand.
Add ice water until the dough just starts to come together. Add a little of the water at a time. More water may be needed to get to bind on a dry day.
Wrap and refrigerate dough.
Add rhubarb, powdered sugar, water, cornstarch and nutmeg to a pan and simmer until rhubarb is tender and mixture is thick. Remove from heat when done and allow to cool slightly before adding strawberries.
Combine all custard ingredients except eggs and cook at medium until thickened slightly. Turn heat to low. Add some of the warm mixture to the beaten eggs to temper, and then add eggs to remaining custard ingredients. Allow to thicken slightly then remove from heat.
Remove chilled dough from refrigerator after chilling for at least 30 minutes. Flatten layers of dough into circles with the palm of your hand, by pushing off pieces from the dough ball. Make about 10 layers of the flattend dough pieces and refrigerate for another 20 minutes. You can use the freezer to chill your butter, or cool your dough, but avoid freezing because it will be difficult to work with.
Cut dough into two halves. Roll dough out between two pieces of plastic wrap or wax paper to cover your pie tin. Prick bottom and sides of your dough with a fork and make sure you push the dough around the edges down well. I like to cut excess dough off of the edge. This dough is quite flaky, and has a tendency to rise.
Pour custard into unbaked pie crusts and bake until custard is set and crust is nearly done. About 15 minutes.
Add strawberry and rhubarb mixture and bake another 20-30 minutes. Cover the edges of your pie crust if they start to get too dark. The pie is done when the filling is set.
(Optional) Cook down balsamic vinegar until it is a thick syrup. Drizzle the syrup over the pies.
A top crust can also work with this recipe. If you want to do this, make your top crust and add it on top of the strawberry rhubarb filling and bake until top crust is cooked. Balsamic drizzle can be used on top of pie.