Strawberry-Rhubarb Compote
Prep 10 mins
Cook 10 mins
Serve with my Vanilla-Citrus Tea Ring. Any remaining compote would be wonderful served for breakfast or dessert with a spoonful of yogurt or creme fraiche. From Bon Appetit.
Directions
Place 1 1/2 pounds strawberries and rhubarb in medium pot.
Mix in sugar, ginger, lime juice, and peel.
Cook over high heat until sugar dissolves, stirring often.
Boil 4 minutes, stirring often.
Reduce heat to medium; simmer just until rhubarb is beginning to fall apart, about 3 minutes.
Remove from heat.
Stir in remaining strawberries.
Cool.
Chill until cold at least 1 hour and up to 1 day.
Reviews
Most Helpful
Very very tasty! I used scissors to cut up the ginger and next time I will cut it up smaller as I didn't like biting into the bits of ginger so much. Otherwise, this was excellent and it was nice to have another tasty recipe for rhubarb besides just rhubarb sauce. Thanks Bev!

Delicious! I served mine on a Belgian waffle with whipped cream. It would also be lovely on French toast or over ice cream. Thank you, Bev. [Made for Name That Ingredient]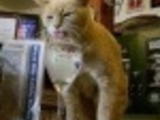 Note- review is with the substitution of blackberries & red raspberries as I am allergic to strawberries. This was excellent! The flavors just get better with time. I used 1/2 red raspberries & 1/2 blackberries equivalant to the amount of strawberries called for in the recipe. My husband had asked me to make the strawberry rhubarb sauce that he enjoyed as a child. He was really impressed with the new flavor variation of an old favorite. I could see this on a pound cake, vanilla ice cream, with roast pork or even with baked cinnamon sugar tortilla chips (or the tea ring as suggested in the intro). I was also considering making Gingered Cranberry-Raspberry Relish or Cranberry-Rhubarb Relish, no regrets with this one! Make sure your ginger is minced VERY fine, it is a strong flavor. I did reduce slightly for that reason. Thanks for sharing.