Strawberry Rhubarb Compote
flower7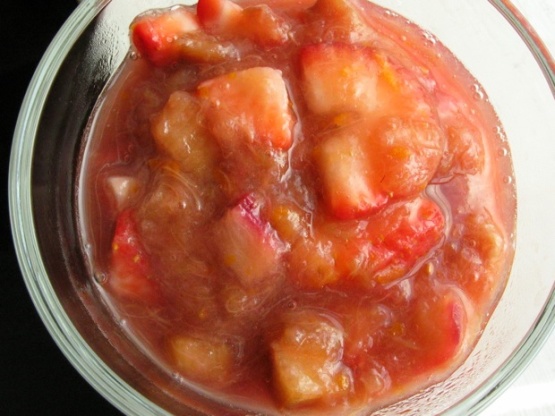 Quick and easy fruit compote to serve over ice cream, frozen yogurt, or cake. It is also good used in a trifle or make individual desserts in a wide-mouth wine glass; cut pieces of pound cake or angel cake, add some sauce, scoop of ice cream and more sauce on top. Add a dollop of whipped cream and some crushed nuts on top to make it decadent. From a magazine clipping a long time ago.

Thanks for this. I made this not thinking it would be the highlight of the dessert and it was. Really good flavor, with just enough citrus tang from the orange zest/juice. Very good red color. Made and enjoyed on Saturday, left in fridge and enjoyed again Tuesday night. Plan to have more tonight. Thanks!
In large saucepan, bring sugar, orange rind and orange juice to a simmer.
Add rhubarb; simmer gently until tender, about 15 minutes.
Stir in strawberries.