CarolAT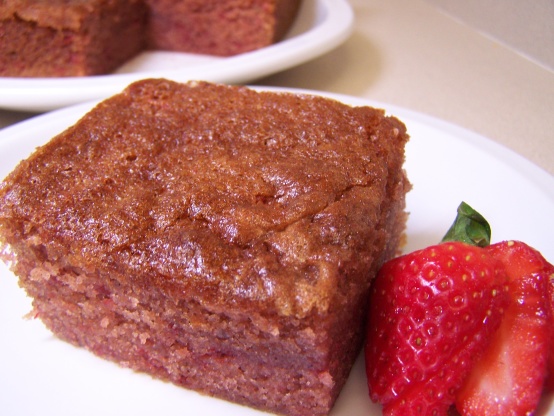 FLAVOR GALORE! This pudding cake is flavored with strawberry jam, buttermilk and spices. A wonderful dessert to serve with vanilla ice cream. Featured in an old magazine as a good coffee dessert. Quick and Easy!

This cake is very easy to make and tasted great. There are quite a few possibilities with it as I've also used other jams apart from strawberry. Thanks!
Cream butter and sugar until light and fluffy; add eggs and beat well.
Dissolve baking soda in buttermilk. Combine dry ingredients. Add buttermilk mixture and dry ingredients to cream mixture; stir well.
Stir in jam. Spoon mixture into a greased 8x8 inch square baking pan. Bake in a 350 degree oven for 35 to 40 minutes or until done. Serve with vanilla ice cream. May add an additional teaspoon of jam on top just before serving.