Pamela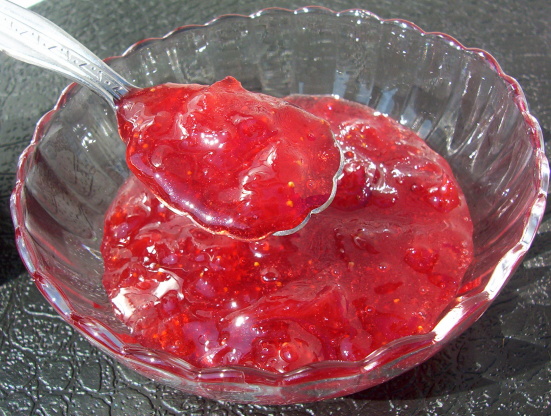 I remember grandma making jelly and preserves, hers were the very best, she never used pectin and the flavor was wonderful. I haven't tried this yet myself, but I plan to soon. I hope to make some with Splenda. I will post my notes when done.

mm-MMM! Tastes like a sweet, luscious, ripe strawberry melted in your mouth. The syrup is nice and thick, though easily spread, and flavors thoroughly and the strawberries have a nice chewiness to them. The only change I made is to add a teaspoon of butter when I heated it up after the 12 hour rest --to can it in a modern canning method-- as that reduces the foam that evades skimming (adds a nice, buttery 'bottom note'). It's simple and simply delicious. My family and friends flipped over it. This is a keeper.
Cap and rinse berries, place in a large colander.
Pour boiling water over berries and let drain 1 minute.
Combine berries and 1 cup sugar in a dutch oven. Bring to a boil; boil 7 minutes, stirring frequently. Stir in remaining 1 1/2 cups sugar; boil an additional 7 minutes, stirring frequently.
Pour strawberry mixture into a shallow 13x9-inch pan; skim off foam with a metal spoon.
Let stand, uncovered, in a cool place 12 hours; shake pan occasionally so that berries will absorb syrup and remain plump and whole.
Skim off foam with a metal spoon, pour preserves into sterilized jelly glasses, leaving 1/2 inch headspace.
Cover with a 1/8 inch layer of paraffin. cover with lids.