rodbunch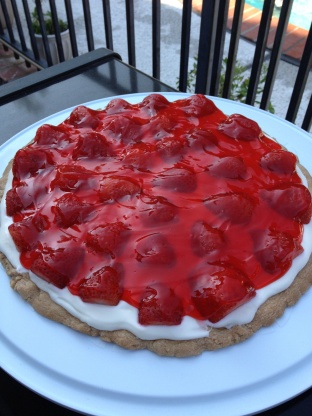 I'm not sure were this originally came from. I believe it came from a magazine, but I got it from one of our potlucks at work. You talk about good? This is!

We were invited to dinner and I was asked to bring the dessert. I overheard our friends 17 year old daughter asked for strawberry pizza, having never made one . . . came to recipezaar. Darlene, you made a hit at the dinner party! I assumed you ment a small stawberry jello, other than that, I made your recipe exactly as printed. It was fantastic! My husband NEVER eats strawberrys, other then as strawberry shortcake, when all others were raving about the dessert, he decided to try it...and has now asked me to make this again! Thanks!
• Dough: Mix margarine, flour, powdered sugar.
Spread on Pizza pan (may use 1 roll of refrigerator sugar cookies instead of making dough).
Bake at 325° for 13 to 15 minutes. Watch closely for browning.
• Cream Topping: Mix cream cheese, Cool Whip and sugar until creamy; spread on COOLED crust.
• Strawberry Topping: Wash, drain and slice 1 quart berries and add to glaze. Spread on cream topping.
• Glaze: Combine Jello, cornstarch, sugar and water.
Heat to boiling, stirring constantly until thickened.
Cool and spread on cream topping.
Enjoy.