Food.com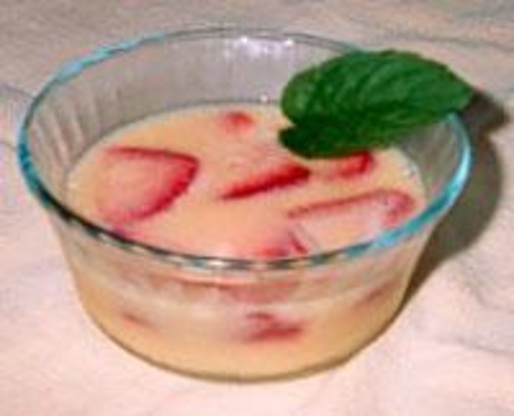 Very fresh tasting with an intense orange flavour and a creamy texture. The optional sugar is not necessary. Only took 1 hour to gel in my fridge. A great summer dessert because it doesn't use the oven and heat up the kitchen. Might be fun to mix and match fruit (blueberries, raspberries, chopped peaches, grapes...) and fruit juice (apple juice, grape juice...). I will definitely be making this again... so healthy (fruit and milk) and delicious!
Wash the strawberries and remove the stems from all but six of them.
Reserve these six berries for garnishing each cup before serving.
Cut the remaining berries into thin slices and divide them equally in the bottoms of 6 custard cups.
Soften the gelatin in the cool water for 5 minutes.
Place the remaining 1/4 cup of water in a microwave to boil.
Add the boiling water to the softened gelatin and stir until completely dissolved.
Combine the orange juice concentrate, milk, vanilla and sugar and mix well.
Stir in the dissolved gelatin and pour the mixture over the sliced strawberries in the custard cups.
Place the cups in the refrigerator for about 2 hours, or until completely jelled.