Strawberry or Raspberry Bisque
twissis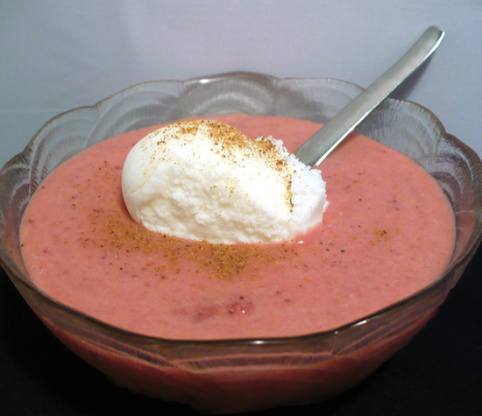 A friend gave me this delicious recipe, which I adjusted a bit for our tastes and for what I usually have on hand. It is a fun, fruity twist on a bisque.

Made as a prize for the *Best of 2008* game ~ While I am esp fond of chilled fruit soups & bisques, my DH does not normally share my passion for them ~ BUT I found a way to chg his mind w/creative use of your recipe. I made a full recipe as written except for using frozen strawberries. To serve, I ladled the soup around a scoop of vanilla frozen yoghurt & sprinkled a bit of nutmeg over it. DH was in heaven & even suggested the combo would make a great milk shake. I fear I may have created a *strawberry bisque shake* monster. Thx for sharing this recipe w/us. :-)
Combine berries and sugar and mix well.
Stir in lemon juice.
Run berries through blender or food processor briefly to break them up.
Melt butter in a saucepan and blend in flour.
Add cream cheese and milk all at once and immediately stir vigorously over moderate heat.
Continue to cook until thickened, stirring frequently to create a sauce-like consistency, although it will stay a bit thin.
Cool, stirring occasionally. Chill.
Just before serving, stir berries gradually into the sauce.