Pamela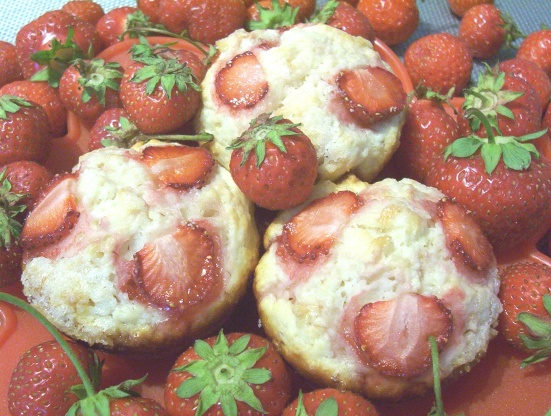 Perfect for summer breakfasts. This is a high-altitude adjusted recipe so recipe needs to be adjusted for cooking at sea level (oven temperature, cooking time and amount of baking powder are all affected in this recipe). Original recipe was printed in the newspaper.

These were a delight for breakfast! nice and light and a great use of the strawberries while at their peak. I used the margarine and splenda instead of sugar. Have to admit I pushed the points of the strawberries just barely under the batter, I was afraid they would burn or not be nice and juicy, glad I did, lovely juicy berries in each bite, maybe because of this they did take about 5 minutes longer to cook, all and all a very nice muffin, thanks for sharing.
Preheat oven to 450-degrees F.
Combine flour, 1/4 cup sugar, baking powder and salt in bowl.
Stir in milk, egg and butter.
The batter will not be smooth.
Spoon into buttered muffin tins (or use cup cake paper lined tins), filling each cup about 2/3 full.
Press strawberry slices into batter, pointed side up.
Sprinkle each muffing with 1 teaspoon sugar.
Bake for 15-20 minutes or until golden brown.